A User Facing Content Management View
Submitted by
Dale
on July 8, 2008 - 2:56pm
Drupal does not have user facing content management out of the box. Fortunately, a user facing content management page can be created in 5 minutes using Views. It's not a panacea, but can provide part of the solution.

I typically use this view in conjunction with a menu block. The menu block has visibility set by role and contains links useful to the user, such as a link to this view, the content creation URL (node/add/foo), and the user's profile.
Basic Content Listing View
The view above was created with Views in Drupal 5 using the settings that follow. Although I haven't created this view in Drupal 6 with Views 2, all of the required fields and options appear to exist. For the example, the story node type is used for blogging.
Access: Set to the appropriate role(s)
Page View with View Type: Table View
URL: Whatever makes sense in your situation
Fields:
| Field Name | Label | Setting |
| --- | --- | --- |
| Node: Title | Title | As link |
| Node: Author Name | Author | None |
| Node: Created Time | Created | As Custom Date "M j, Y" |
| Comment: Count | # Cmnts | Normal |
| Comment: Last Comment Time | Last Cmnt | As Custom Date "M j, Y" |
| Node: View Link | View | None |
| Node: Edit Link | Edit | Return to View |
| Node: Delete Link | Delete | Return to View |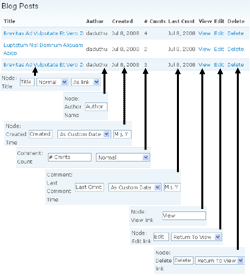 Filters:
Node: Type "Is One Of" Story
Node: Author is Current User
Sort Criteria
Node: Created Time w/Order: Descending
Variations
The author field was shown for the purposes of example. If the view was truly intended for only the logged in user it is not required.
Removing the "Node: Author is Current User" filter provides a general purpose view. The Edit and Delete links are only displayed if the current user has the ability to edit or delete the node. This is useful for administrators and group blogs.
Using the content type as an argument you can create a general view that handles different content types.
Using the Comment: Count field with "With New Count" provides a quick way to show unviewed comments.
A link to the node creation page can be placed in the header so all of the CRUD functions (create/read/update/delete) are present on the page.
View Export
Also attached is an export of the View I used for this article. Remember, this is PHP. Please review the code before importing it!