Drupal Camp Victoria 2008
Submitted by
Dale
on September 13, 2008 - 12:30pm
Drupal Camp Victoria (#DCVic) at North Studio was a joy. A great part of this joy was the freedom from having nothing what-so-ever to do with its organization! But it was more than that.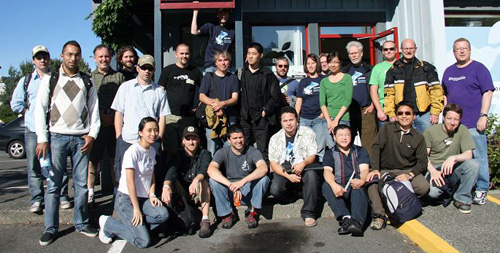 Last Folks Standing at Drupal Camp Victoria 2008
Photo by nicky Tu
Local Drupalers Amir and Ryan Dempsey stepped up and organized our very own Vancouver Drupal-mobile rental van. Although the van was squishy the company was great. The trip from Vancouver to and from Victoria passed quickly. During our ferry ride over I teamed up with Dave O. from Raincity and videoed Dave doing what he does best.
Inside the Drupalmobile
Gordon, Rene, Richard and everyone at North Studio did an awesome job of hosting the camp. Seeing it located at their place of business (displacing their normal work routine/revenue) and knowing first hand what's involved with organizing a Drupal camp (from Drupal Camp Vancouver) I doubly appreciated their effort. Good job North Studio!
There happened to be a beerfest that weekend, as well. The DCVic crew obtained a block of tickets before the event sold out. An enthusiastic contingent of Drupal camp delegates attended. The North Studio gang also put on a BBQ for Saturday lunch. The weather, never to be taken for granted in these parts, was perfect for both.
I have my ticket!
Photo by
nicky Tu
The Drupal Corner at Beerfest
Oh, and amongst all this community building and networking were presentations! I enjoyed the ones I sat in on, videoed a number of them, and did some presenting myself (My first presenting at a Camp). Here's more video of Raincity's Dave O talking with the Friday crowd and organizer Gord Christmas and a shot of the Saturday BBQ.
The Saturday BBQ
It's really gratifying to see Drupal Camps happening all over the Pacific North West. This year we had Seattle, Portland, Vancouver and Victoria, as well as, I'm told, a strong Drupal showing at LinuxFest Northwest in Bellingham.
A big shout out to the Vancouver Drupal sponsors whose generosity also helped out Drupal Camp Victoria. Special kudos to sponsors Raincity Studios for their continuing strong community support and Workhabit (my primary employer) who supported us Vancouverites in spite of not having an office here.
For a complete photo essay on Drupal Camp Victoria check out Nicky Tu's Flickr photoset: Drupal Camp Victoria 2008.