Free Guide on Podcast Marketing Basics
Submitted by

Dale

on July 3, 2008 - 10:50am
Tagged: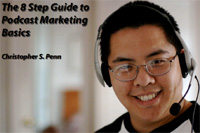 Chris S. Penn has released The 8 Step Guide to Podcast Marketing Basics as both a PDF and MP3 audio book.
Don't let the "Marketing" in the title throw you off. The advice covers getting listeners. Period. For example, "Can you find your podcast easily". Seemingly obvious, but it's easily forgetten in the myriad of details. And for the people who seriously want to build audience or meet tangible goals, there's a couple of tips on how to start. It's a quick read, so also makes a decent checklist for those wanting to review their setup.
Tip of the hat to Podcast News.