Drupal Camp Vancouver Wrap
Submitted by

Dale

on June 30, 2008 - 2:23pm
Tagged: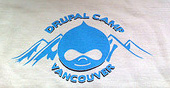 Drupal Camp Vancouver 2008 (DCV08) was a month ago and I haven't posted a wrap up. It's almost moot at this point, but it seems weird to have blog posts saying DCV08 is coming and have no wrap up post. So instead of moot, let's say better late than never.
The stand out session for me was Greg Dunlap's deployment module session. He's making headway on a problem the community really needs to solve. Kat Bailey's jQuery session was also a winner.
Biggest WTF moment was one of our speakers flying in from Lethbridge, Alberta getting delayed by snow! It was May, damn it!
Though I've been involved in the organizing of many conferences this was the first I've held a primary role. The work isn't hard but the details sure eat up a LOT of time. When Dave, Ariane and I kicked this off with the blessing of the local community and a short organizing period I didn't realize how much responsibility would fall on our shoulders. There was simply no time to build out a committee and spread the responsibility (Thank goodness I didn't have an active contract at the onset). It was phenomenally gratifying when the call for volunteers, sponsors and speakers was answered so generously.
A very big personal thank you to everyone who had anything to do with making DCV08 happen.