June 2007 Van Drupalers Meeting: Amazon Web Services
Submitted by
Dale
on July 2, 2007 - 11:31pm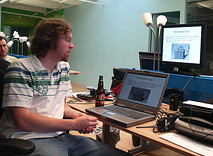 The Vancouver League of Drupalers June 2007 meeting topic was Amazon Web Services, of which S3 is arguably the best know. It was given by Alex Harford (pictured right, photo by Roland). We heard about him and his Amazon knowledge though the local Linux community. He graciously accepted our invitation to speak.
Alex's presentation slides, available at http://www.alexharford.com/2007/06/28/drupal-presentation/, are quite good. If you're interested and want an overview of the services I encourage you to browse them.
Some things I learned:
The simple storage service, S3, is very straight forward. It has an option to serve your file by bittorret and is scriptable.
The SQS: Simple Queue Service was interesting but I wasn't sure why I'd want to use it until I understood what EC2: Elastic Compute Cloud was.
EC2: Elastic Compute Cloud is a virtual private server (VPS) service you can rent by the hour. Firing up new instances is a menu click and is scriptable. (Hmmm, need a new build server but only for a couple hours …..)
The Mechanical Turk service seemed gimmicky but the idea hamster for one of the attending Drupaler's went into overdrive.
There are web and Linux clients for handling files, so no programming is required to get something basic going
Even though I have no current requirement for Amazon Web Services I wish I did. I'd love an excuse to play with them!